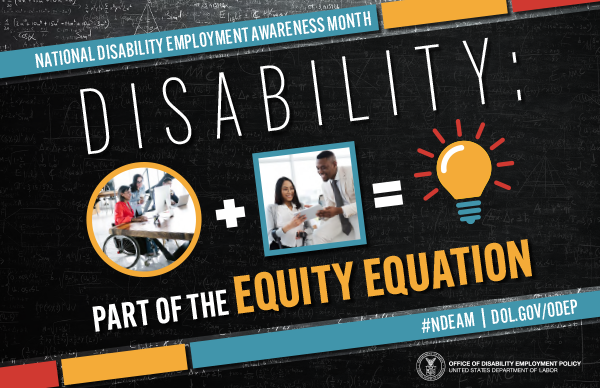 In recognition of the important role people with disabilities play in a diverse and inclusive American workforce, the theme for National Disability Employment Awareness Month (NDEAM) 2022 is Disability: Part of the Equity Equation. Observed annually in October, NDEAM celebrates the contributions of America's workers with disabilities and showcases supportive, inclusive employment policies and practices.
Learn more about National Disability Employment Awareness Month.
Employment Programs at Easterseals Crossroads
Easterseals Crossroads has a fantastic team of employment professionals who work with those we serve who are seeking careers. Not only do we recognize our workforce and the accomplishments of those with disabilities this month, we celebrate those who work behind the scenes so that meaningful employment is a reality.
We appreciate our employment and veteran services staff — our employment consultants, retention specialists, benefits coordinators, career coaches and administrative staff. Our programs include employment services, transition services, Pre-Employment Transition, Project SEARCH, CHIPS, Pathways to Opportunity, Family Opportunity Program and our College InternXperience program.
Transition Services
The goals of the transition program are to ensure seamless transitions for students as they emerge from high school by providing information, resources and guidance as they choose adult services and support systems within our community.
Pre-Employment Transition
The Pre-ETS program serves students between the ages of 14 and 22. These students are eligible for, or receiving, special education services through the Individualized Education Plan or 504 Plan under the Individuals with Disabilities Education Act.
Project SEARCH
An immersive program for high school students, Project SEARCH provides employment and educational opportunities for high school students in their final year who meet the eligibility requirements.
CHIPS
This program for high school students with disabilities is a comprehensive, one-semester community and work-based learning program designed to give high school students with disabilities the opportunity to access meaningful employment and career planning activities to facilitate the seamless transition from high school to employment or post-secondary training. The primary objective is to prepare students to be as work ready as possible upon exit from high school.
Employment Services
We help adults with disabilities who are seeking meaningful employment opportunities. Our staff help individuals identify their employment goals and create a plan to meet those personal goals. We believe each individual who wants to secure or maintain employment has unique needs. Whether someone is looking for a professional, skilled, semi-skilled or entry-level job, we provide a flexible and creative solution to meet specific needs, abilities and interests.
Pathways to Opportunity
Pathways to Opportunity is a program designed to provide intensive services for individuals with disabilities who want to create their path to a good future with a promising job. Career navigators will guide candidates through individualized steps toward economic independence.
Family Opportunity Program
Family Opportunity is a program designed to help your family move toward financial stability by improving employment. For families with a child with a disability who is under the age of 18 and an adult caregiver who is 18+ seeking employment, we can provide services for the adult job seeker including career counseling, resume development, placement assistance and more.
College InternXperience Program
College students who have autism might benefit from our College InternXperience program, a partnership with participating area colleges and universities to provide paid internship opportunities for college students who have been diagnosed with autism. The program provides hands-on experiences for students within their chosen fields of studies.
For information about any of the above programs, contact us.