The Easterseals Crossroads Board of Directors are leaders in our community who share our purpose and passion to improve the lives of children and adults with disabilities.
This group of forward-thinking, innovative men and women help us advance our message to promote inclusion, independence and dignity for everyone living in our community.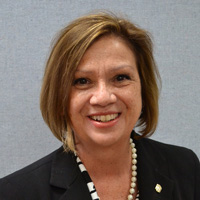 Darlisa Davis, Board Chair
First Merchants Bank

Darlisa joined First Merchants Bank in 2011 where she served as a commercial banker for the first six years. She became a private banker with First Merchants in early 2017. Utilizing her 20 years of banking experience and employing her strong credit skills, Darlisa developed, cultivated and managed key client relationships. Darlisa possesses an expertise providing sound banking and financial guidance to local entrepreneurs, business owners and professionals. By developing deep and long-lasting personal relationships, Darlisa offers the highest level of experience and personal service level to private banking clients.
Prior to joining First Merchants, she worked as a commercial banker in Indianapolis and also an investment real estate banker in Dallas, Texas, and Atlanta, Georgia.
Darlisa attended Richland College in Dallas, Texas.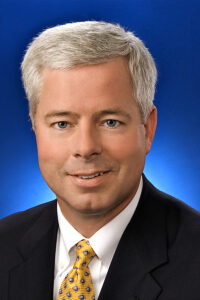 Harold J. Tenbarge, Immediate Past Chair
Eli Lilly and Company, retired
Harold retired from Eli Lilly and Company as the Senior Director of Procurement. His responsibilities included all procurement activities that supported Lilly's Marketing & Sales efforts globally. He has significant experience with all aspects of sourcing strategy development, execution and supplier performance management. Additionally, his career included work experience in manufacturing, process research and development, and supply chain management. He brings his supply chain experience to support Crossroads Industrial Services and our acquisition efforts.
Harold gives to Easterseals Crossroads for the impact the group have on people's lives. He believes a community supports each other, and Easterseals has a profound impact on the lives of those with disabilities.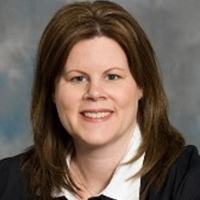 Kelley Karn, 1st First Vice Chair
Duke Energy
Kelley is Deputy General Counsel, state regulatory legal support, for Duke Energy. She is responsible for overseeing the company's regulatory legal activities in Indiana.
Kelley joined Duke Energy in 1998 as a law clerk and was promoted to counsel in 2000. Karn manages major regulatory proceedings, including general rate cases, environmental compliance, tracking mechanisms and electric generating plant proceedings. In 2006, she assumed the position of lead Indiana regulatory counsel for Duke Energy after shepherding the approval of the Cinergy/Duke Energy merger through the Indiana Utility Regulatory Commission. Karn was promoted to her current position, Deputy General Counsel, in 2008. In this role, Karn manages three attorneys and advises the company on regulatory, legislative and policy matters.
Kelley earned her BA in government, international relations and public policy from the University of Notre Dame, cum laude. Her Juris Doctor degree is from Indiana University School of Law – Indianapolis, summa cum laude. She is admitted to the Indiana Bar. Kelley and her husband, Ron, have three sons and reside in Noblesville, Indiana.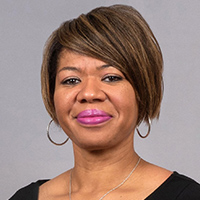 Kim Thomas, 2nd Vice Chair
OneAmerica Financial Partners, Inc.
Kim Thomas is a Chief Diversity Officer with twenty-seven years of progressive experience in multiple industries including financial services, medical diagnostics, health insurance and commercial printing. She joined OneAmerica in April 2017 where she's been responsible for leading the execution of several enterprise priorities including the development of a comprehensive organizational effectiveness model, implementing a comprehensive career and compensation framework as well as championing the organization's diversity, equity and inclusion strategy.
In 2020, Kim was honored to receive an ASPIRE award for Excellence in Execution from OneAmerica's CEO for outstanding execution of a business initiative with a significant and sustained impact on business objectives. The mission of the ASPIRE Awards program is to create a culture of community and recognition that celebrates top-performing associates and leaders who live OneAmerica's ASPIRE values and have demonstrated a consistent track record of success.
Kim received her Bachelor's degree in Psychology with a minor in Supervision from Purdue University in West Lafayette, IN. She is currently a Board member of Easterseals Crossroads as well as a member of the American council of Life Insurers (ACLI) Diversity, Equity & Inclusion forum.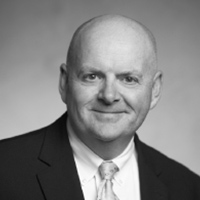 John Seever, Treasurer
Baker Tilly, retired
John has been involved in many professional engagements, including financial studies for cities, towns and utilities. These studies often include budgeting, financial reporting, annexation, consolidation and financial planning.
He is a member of the American Institute of Certified Public Accountants, the Indiana CPA Society and the Governmental Finance Officers Associations, among other professional groups. In addition to our board, John also serves on Accelerate Indiana Municipalities' Board of Directors. He is a past chair of the Indiana Section American Water Works Association as well as the AWWA National audit committee.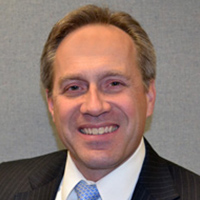 Steve Stevens, Secretary
Westpoint Financial Group
Steve joined Easterseals Crossroads seven years ago to help others receive the opportunities and responsibilities his oldest brother with special needs did through an Easterseals affiliate in Wisconsin.
Steve brings real-life conversations with families working with his financial planning practice to the board's decision-making process, desire and mission. A bachelor's degree in accounting from the University of Wisconsin and a master's degree from Marquette University combined with 20 years of leading his international travel business add to his background.
Brent Archer
Youngblood Automation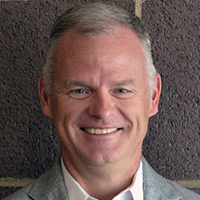 Phil C. Belt
Sharp Business Systems
With more than 25 years of corporate experience in both financial and communications roles, Phil has held leadership positions at Eli Lilly and Company, Credit Suisse, VMS Biomarketing and Stericycle.
Phil has his Bachelor of Science in finance from West Virginia University and his Master of Business Administration from the University of North Carolina. He joined the Easterseals Crossroads board in 2013 and has also served on the boards of Church at the Crossing and the Indiana Bond Bank.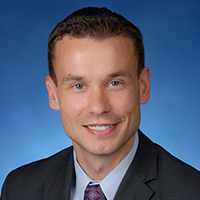 Matt Bruhn
JPMorgan Chase
Matt is a commercial banker with JPMorgan Chase, focused on delivering services to middle market companies across Indiana. Matt holds his BA in economics from DePauw University and his MBA in finance from Indiana University. Matt became aware of Easterseals Crossroads during his nine-month internship with United Way Leadership United, a program designed for young professionals to experience leadership and board development training.
During this internship, Matt spent six months attending Easterseals Crossroads board meetings to learn the fundamentals of board membership. He became aware of the amazing things we do every day at Easterseals Crossroads and was quick to agree to serve on the advisory board when asked. He is involved with the Crossroads Industrial Services subcommittee and is actively seeking ways to introduce new businesses to our industrial division.
Matt lives in downtown Indianapolis, where he enjoys running and biking in his free time.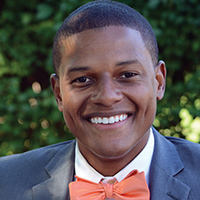 Michael Ferron
Managing Broker & REALTOR®, 10|24 Commercial Real Estate
Michael is the managing broker of 10|24 Real Estate, an Indianapolis-based commercial real estate firm. He is also in his last year of law school at the Indiana University McKinney School of Law. In addition to being a real estate broker, law student, and father, Michael is also a real estate instructor with specific interests in fair, affordable, and accessible housing.
Michael has been on Easterseals Crossroads' board of directors since 2016 and has served as the development committee chair since 2018. He first got involved with the disability community in 2005 and brought that passion with him when he relocated to Indiana in 2013. A Florida native, Michael now lives on the northside of Indianapolis with his daughter, dog, and 16-year-old turtle.
"From the first time I toured ESC's Willowbrook location, I was amazed at the great work and seeing the devoted staff. Over the past five years, I have become intimately familiar with how important our organization is to the central Indiana community. Of all the nonprofits I support, ESC is among the most meaningful and trustworthy stewards of my donations," said Michael.
Join me in my personal campaign to fundraise for Easterseals Crossroads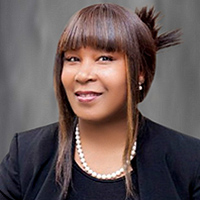 Jane Harper
Eli Lilly and Company
Jane is Senior Director of Information, Security Risk Management and Business Engagement. She is accountable for several key programs that help to identify and manage information security risks while enabling the business. Jane is known as a servant leader who lives by the philosophy of Do the right things, at the right time, with the right people, the right way.
With a passion for people, Jane has supported several not for profit programs focused on making life better for others. Working internationally and domestically across multiple cultures, she embraces diversity in people and thought. Jane has earned several industry recognitions and awards, including Crain's Detroit's 40 under 40, Crain's Detroit Notable Woman in Tech, Oakland County Elite 40 Under 40, and Michigan Chronicle's Woman of Excellence. Jane also holds several designations and certifications including MSIA, CISA, CRCMP, ISA, PCIP, CISSP and both undergraduate and graduate degrees. Jane is most proud of her family and work with her church.
Join me in my personal campaign to fundraise for Easterseals Crossroads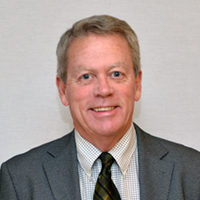 Fred Hash
Cinnaire, retired
Fred retired as a Senior Vice President/Director of Business Development from Cinnaire, after 20 years experience in business development for the nonprofit community development financial institution. Over that time period, Cinnaire has financed over 50,000 affordable Multifamily units, created 80,000 jobs and mixed use development(s), often with mission-driven, high community impact developments across multiple states. Over that same time period, Fred served on, including as President, the Riley Area Development Corporation board in downtown Indianapolis. He lead a development team on the Lincoln Apartments, permanent supportive housing for formerly homeless Veterans. Prior to joining Cinnaire, Fred served 10 years as Community Investment Officer/Senior Vice President of the Federal Home Loan Bank of Indianapolis.
His territory included all of Indiana & Michigan and he worked with community leaders and local member financial institutions to help them compete and access FHLBI grants that support affordable housing and low-cost, long-term debt for community development.
His first career as a therapist, focusing more on children, really began after college and serving in the US Army. He earned his MSW from Indiana University, worked in 3 community mental health centers & private practice and later returned to IU to study Interdisciplinary PhD coursework on young children.
He decided return to Indianapolis to join the Indiana Department of Mental Health in its Community Mental Health Center division. It was during the advent of psychotropic medicine(s) that individuals with severe, long-term mental illness could leave the state hospitals and live successfully in the community. This brought more demand for affordable supportive housing and led to his "second career" in affordable housing, real estate & community development and banking.
Fred has had leadership roles with the Mental Health Association and the Indiana Association for Community Economic Development. He has worked closely with Indiana Association members throughout Indiana. Fred also was appointed chair of Indiana Housing Trust Fund advisory committee (later renamed Development Fund) by Governor Daniels and led the advocacy to achieve funding through the legislature. He served for 8 years on the Marion County Board of Zoning Appeals and prior to retirement he led an effort to achieve funding for a Transit-Oriented Development Fund.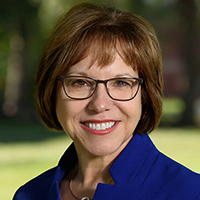 Pamela Hunt, MSN, RN, NEA-BC
Pam has served more than 30 years in various roles of hospital leadership. She is a graduate of Parkview-Methodist School of Nursing in Fort Wayne, Indiana. Pam earned her BS from Indiana Wesleyan University and a master's degree in nursing administration from Indiana University.
Always feeling a need to give back to the community, Pam has served on various boards throughout her career. She was chairperson of Carey Services Board, served on the American Heart Association and currently serves on the Go Red for Women Executive Leadership Team.
Pam's connection to Easterseals began at a very early age when Easterseals assisted her family with care needs when she was diagnosed with juvenile rheumatoid arthritis at the age of 18 months. Pam was the Indiana Easterseals Child in 1963. Being a part of this wonderful organization brings this full circle and allows her to give back to those who gave first.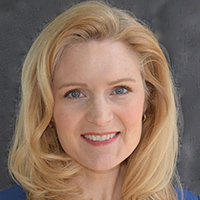 Julie K. Keck, MD
Anthem, Inc.
Julie is a pediatrician and neurodevelopmental disabilities specialist. She is the Managing Medical Director for Anthem Blue Cross and Blue Shield's Indiana Medicaid Plan. She had been with Anthem since 2013. Prior to this, she spent 10 years at Riley Children's Hospital in the Section of Developmental Pediatrics taking care of children and youth with special health care needs. Both of these career experiences allow Julie do what drives her- advocating for individuals who face health disparities or inequities.
"I share my time and talents with Easterseals Crossroads because I see their purpose in action- they are changing the way the world sees disability, they are making profound differences in people's lives. I'm proud to be one small part of the positive change," said Julie.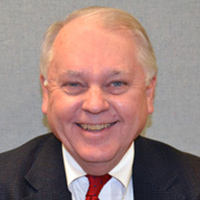 Kenneth Kobe
Barnes &  Thornburg, LLP, retired
Ken was the chief operating officer of Barnes & Thornburg, LLP. He is a former Peace Corps volunteer and has his bachelor's degree from Denison University and his master's degree in public finance from Ohio State University. Ken has served on a number of state and local government boards and commissions, including the Indiana Local Government Tax Control Board and the Marion County Public Defender Board.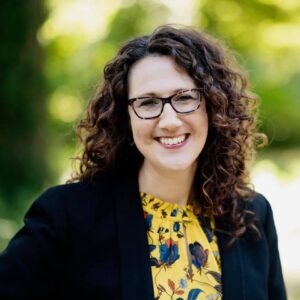 Krista Longtin, PhD
IUPUI
Krista is an Assistant Professor of Communication Studies in the Indiana University School of Liberal Arts at IUPUI and an Assistant Dean for Faculty Affairs and Professional Development at the Indiana University School of Medicine. Her research focuses on communication education and faculty development in the sciences and health professions. Krista leads Indiana University's institutional working group on Communicating Science, serves as the co-editor for the Public Library of Science's Science Communication blog and runs a graduate minor in Communicating Science at IUPUI.
In 2016, Krista was highlighted by the Indianapolis Business Journal as one of their Forty Under 40 young professionals to watch for her work using improvisational theater to teach scientists to communicate more effectively. Prior to earning her graduate degrees, Krista worked for Indiana Public Radio and The Weather Channel. She's not a native Hoosier, but she did the tour of Indiana schools, earning a BA from Ball State University, an MA from Purdue University, and a PhD from Indiana University. An award-winning educator and researcher, Krista's work has been published in Communication Education, Academic Medicine, and the Journal of Faculty Development. She tweets professionally about communication in education and science at @kristalongtin.
"Everyone, regardless of ability, wants to do meaningful work and contribute to making the world a better place. Through our veteran's programs, Crossroads Industrial Services, and Adult Day Services, just to name a few, ESC provides the critical support needed to help Hoosiers of all abilities live and work with purpose," said Krista.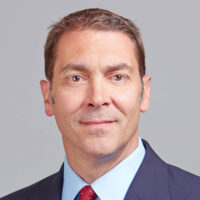 Paul Loub
Accenture
Paul is the Managing Director of Health & Public Service for Accenture's US Midwest Payer market. As unit lead, he is responsible for clients, people, community involvement and financial performance. He has strategic responsibility for integrating Accenture's services to tackle and solve clients' most complex problems. Leading the payer clients in the Midwest – spanning Illinois, Iowa, Kansas, Kentucky, Michigan, Minnesota, Missouri, Nebraska, North Dakota, Ohio, South Dakota, West Virginia and Wisconsin – Paul focuses on building and growing C-suite relationships to drive client value creation and co-innovation.
Paul also serves as the client account lead for several large health clients. Paul brings his client-centric, diverse skill set and passion for continuous learning and building high performing teams to his work in the C-suite.
Throughout his career, Paul has advised US and global corporations on digital transformation, go-to market strategies, large-scale operating model, and cost transformations. He has worked and travelled extensively abroad with a focus on the development of Accenture's global delivery centers in India and the Philippines.
Paul earned his MBA from the University of Notre Dame Mendoza College of Business and his BA degree in accounting from Marietta College. In addition to Easterseals Crossroads, Paul sits on the advisory boards of several organizations, including Make-A-Wish, the University of Notre Dame and Guerin Catholic High School.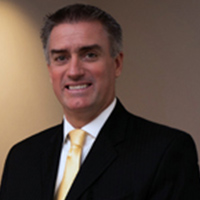 Jim McGovern
3Oe Scientific

Jim served as Senior Vice President of the Employee Benefits Division at American United Life Insurance Company, a OneAmerica company, where he oversaw all divisional activities. Jim's exceptional leadership propelled the division toward positive growth and improved traction in the marketplace.
Under his leadership, Employee Benefits (EB) recorded double-digit sales growth for five consecutive years, and in 2017 was named by Eastbridge as one of the fastest-growing companies based on voluntary sales. In addition, Jim's collaborative nature and continual commitment to an improved office culture increased job satisfaction during his tenure.
Jim has 30 years of experience in the insurance industry. He has gained valuable skill and insights with numerous roles in leadership and sales with UNUM and Cigna. Jim graduated with honors from the University of Indianapolis and lives in Indianapolis with his wife and two children.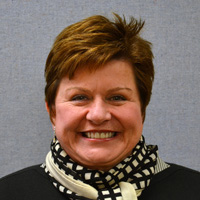 Dawn Neal
Eli Lilly and Company, retired
Dawn is the retired chief operating officer for global corporate affairs at Eli Lilly, where she was responsible for the operations of the division, including finance, compliance and metrics as well as strategic planning. Dawn retired in 2007 after 28 years of employment there. Dawn holds her BSN from Indiana University, and she is a past board chair at Easterseals Crossroads.
"I give to Easterseals Crossroads because of the impact the organization has on individuals in our community. Easterseals Crossroads believes that every person deserves the chance to excel and achieve their full potential no matter the obstacles or challenges. Every day they serve individuals and help them achieve their dreams," said Dawn.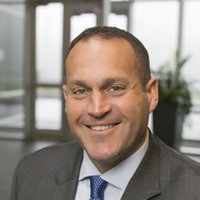 David Norris
Hylant
With over 23 years of experience in the insurance industry, David is responsible for the daily management and overall performance of both the Indianapolis and Bloomington offices. In his role as president, he is responsible for the leadership, directional growth and success of both offices. David focuses on leveraging the strength of his teams by building their talents, expertise and industry specializations.
Prior to joining Hylant, David served as the president of AGIS Indiana and acted as an extension of the customers' executive and human resource teams, assisting with funding decisions, employee communication and education strategies, wellness plan design and compliance consulting.
David is an active member on several boards, Anthem Advisory board, United Health Care advisory board and Davey School of Risk Management board.
As an active and visible member in the community in which he lives and serves, he is also a member of the Board of Directors for March of Dimes – Indiana, College Mentors for Kids Emeritus Board of Directors and Hamilton County Community Foundation.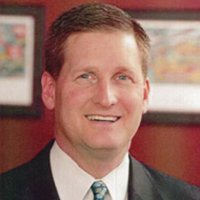 Stephen Orander
Proxurve Solutions
Steve was the Midwest President for Sharp Electronics Corporation. A fan of technology with an entrepreneurial spirit, he started a technology company in 1998, growing it to well over $8 million in revenue before selling it to Sharp Electronics Corporation in 2007.
Steve's connection to Easterseals Crossroads is based on his foundational belief that every person deserves the right to excel and achieve their best, no matter the challenges or obstacles, because they are valued not simply by what they can achieve.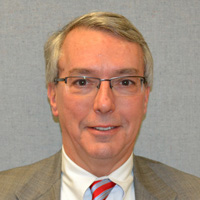 Philip Whistler
Ice Miller LLP, retired
Philip is Senior Counsel at Ice Miller. He joined Ice Miller in 1978 after graduating with honors from Harvard Law School, where he was a member of the board of student advisors. He is also an honors graduate of Stanford University with a bachelor's degree in history.
Philip also serves on the board of the Indianapolis Legal Aid Society, and he is a former board member of the Mapleton Fall Creek Community Development Corporation.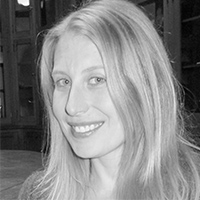 Sarah Halter
Indiana Medical History Museum
IUPUI 2005 Bachelors Degree in Anthropology with an accidental Philosophy Minor; IUPUI 2008 Masters Degree in Museum Studies; American Association for State and Local History (AASLH) 2017 diploma Seminar for Historical Administration (and various certificates)
Sarah is a medical historian and the executive director of the Indiana Medical History Museum on the grounds of the former Central State Hospital in Indianapolis. She serves on a number of other academic and civic boards of directors including the League of Women Voters of Indianapolis (Vice President), the Southern Association for the History of Medicine and Science (Secretary), the John Shaw Billings History of Medicine Society at IU School of Medicine, the Center for Ray Bradbury Studies at IUPUI, the Association of Indiana Museums (Past President) and Youth Enhancement and Training Initiative (YETI). Sarah has more than 15 years experience as a fundraiser and museum professional and is a graduate of the Seminar for Historical Administration.
In her free time, Sarah loves to spend time with family and friends. She is an avid (or rather compulsive) reader, a nature lover and a sci-fi fan. She loves to paint when she can make time for it, and she wishes she made more time for it.
Join me in my personal campaign to fundraise for Easterseals Crossroads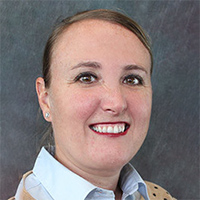 Justin Murphy
First Financial Bank

Justin is a commercial credit officer with 20 years of commercial banking experience ranging from business banking to large corporate banking. Her experience is predominantly focused on commercial and industrial and healthcare and higher education lending. She attended the Kelley School of Business at Indiana University and has a Master of Business Administration in finance from Butler University. Justin is originally from Angola, Indiana, and currently lives in Indianapolis with her husband and two boys.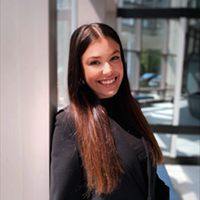 Sarah Schwomeyer
City of Indianapolis
Sarah is a liaison for the Indianapolis – Marion County City-County Council, the legislative branch of government in central Indiana. Sarah focuses on issue areas including metropolitan development, city planning and zoning, education and parks. Sarah became connected with Easterseals through a fellowship with United Way called Leadership United, which was especially impactful after spending several years in undergrad as a direct support professional. She is a proud DePauw University alumna with her BA in Political Science.
"Easterseals Crossroads is a highly impactful and well-rounded organization. It's inspiring to hear – time and time again – how Easterseals Crossroads has touched our neighbors' lives in such a tangible way. Services from Easterseals are transformative to the wellbeing of so many Hoosiers, regardless of the situation they come from. Being involved with this organization is a powerful way to honor veterans, help families with loved ones who have a disability, and support everyone in between. I wholeheartedly trust Easterseals Crossroads and am incredibly grateful to serve in this capacity," said Sarah.
Sarah is a proud Indy native who enjoys being outdoors with her rescue dog, taking care of her many plants, and spending as much time with loved ones as possible.
Alex Sanchez-Felix
BMWC Constructors, Inc.
Alex holds his MSA (Masters of Science in Accounting) from the Kelley School of Business at IUPUI and is a CPA (Certified Public Accountant). To kickstart his career in accounting, he served four and a half years at a local public accounting firm where he spent time working in the attestation group on engagements in various industries including nonprofits and manufacturers. In November 2019, Alex joined BMWC Constructors, Inc., an industrial construction company headquartered in Indianapolis, as an Accounting Manager where he oversees payroll, accounts payable, fixed asset tracking and treasury responsibilities for the company.
Alex's interest to join the Easterseals Crossroads advisory board was spurred by his wife's career as a pediatric occupational therapist and seeing the positive impact she has on her consumers' lives. Her stories of the great work performed by Easterseals Crossroads inspired him to try to use his expertise for something larger and hopefully also positively impact those with disabilities in his community.