Meet Lily. She is 21 years old and has been working alongside Sherri Negri, Lead Employment Consultant in our Employment Services program, to find meaningful and long-term employment. Lily has found just this through her job with Goodwill. "Lily has pushed herself to achieve her goals," said Sherri.  "She has a positive outlook and a can-do attitude and is always a joy to be around. She has an extremely supportive family and Goodwill is a wonderful community partner."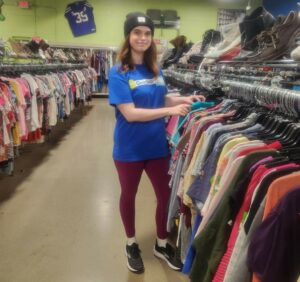 Easterseals Crossroads employment programs set themselves apart due in large part to the heart and hard work that our staff put into each case presented to them. Every case is customized based on the needs and abilities of the client. We provide a range of services to assist in developing their skills to obtain employment. We assist them through communication with employers, writing resumes and cover letters, completing applications, identifying job leads, improving interview skills, following up on applications, arranging internships, networking with area leaders, learning new and necessary skills, enhancing current skills, and connecting them with other services essential to living more independently.
Lily was already a hard worker when it came time to set her goals and find the right fit. "Effective communication was her biggest barrier," mentioned Sherri when speaking about her time with Lily. "We took time up front to practice communication and interview skills. Lily took notes and practiced with her parents. She worked diligently to get this job. Once employed, we created cheat sheets for her for the time clock and clothing sizing. She is now able to do these tasks independently and her managers are extremely pleased with her job performance. Lily is also an extremely positive, polite, kind person and adds to an overall positive environment on her job."
The independence has made such an impact on Lily too.  "Sherri made me feel like I could do whatever I set my mind to and always encouraged me. I now have a job I really like and my own money. I feel productive. I love that I can buy and do things now without having to ask my parents for money. I'm saving for a trip to London!"
Our employment staff do a lot of the work upfront to make sure that we are making a good employee/employer match. A good number of our candidates have gone on to be employee of the month and received increases in hours and consistent raises.
There are great advantages to employers in the community working alongside Easterseals Crossroads as they hire new employees. We provide them with qualified candidates who can fulfill their employment needs. We educate them on hiring skilled employees while creating a culture of inclusivity. In working with us, employers get an extra coach for their employee at no cost to them. We can provide long-term support as well for as long as that person is employed.
Lily was unsure of the type of job she wanted upon high school graduation. She loved fashion and travel; she would have loved the opportunity to work in Paris but knew that was not a realistic first job. However, she acknowledged that she wanted to be independent and productive while doing something she enjoyed.  Sherri and Lily spent time finding what her interests were, going on job site visits and shadowing employers in different positions, until Lily found a great fit.
"I can't imagine trying to do all of this without the help from Easterseals and Sherri," said Lily.  "There are so many people that have challenges and need help. It's so nice to know that people care and that there are places like Goodwill and Easterseals in the community that give people with challenges a chance at a happy life."