contributed by Crista McIntosh, Document Services Manager, Crossroads Industrial Services
Crista has worked for Easterseals Crossroads for 17 years in a number of roles including, job coach, project manager and grant work within transition services for high school students. She is currently the Document Services Manager for Crossroads Industrial Services.
Crossroads Industrial Services is a competitive social enterprise division of Easterseals Crossroads. We provide solutions for a wide variety of businesses across the United States. Greater than 75% of the Crossroads Industrial workforce consists of individuals with disabilities who are paid market wages with excellent benefit packages. Profits support underfunded services at Easterseals Crossroads.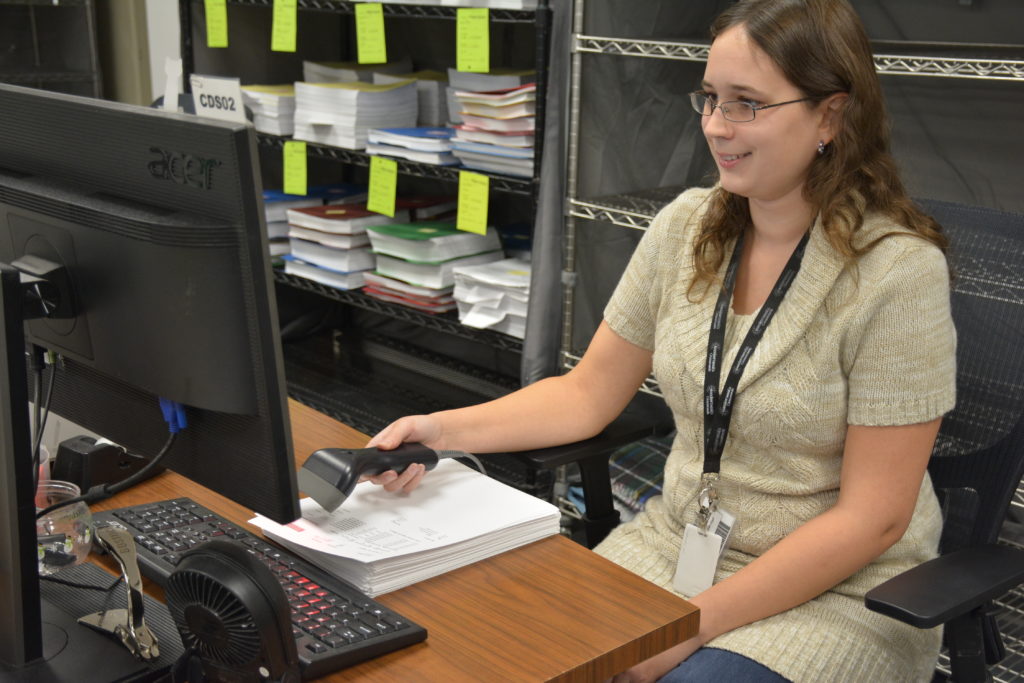 Caitlin has participated in various departments within Easterseals Crossroads, such as our Autism Resource Center, employment services and is currently employed at Crossroads Industrial Services.
Caitlin began working for Crossroads Document Services (CDS) as an intern to scan the files for central file. Through a grant providing employee internships she was able to receive a paycheck for her work and this allowed CDS to see her capabilities in this type of environment. Once her internship was completed, she was hired as an employee for CDS and
has been an amazing employee ever since.
Caitlin is an invaluable employee with strong family support, work ethic, fabulous attendance and stellar job performance. She is a great fit for CDS with outstanding attention to detail and virtually error-free completed work. In fact, she is most often utilized to complete final checks for other employees' work before a final product is delivered to customers. Caitlin
was heavily involved in the quality check process for the Digitize Indy Project that CDS completed for the Indianapolis Public Library, personally quality checking over 60,000 images for the Shortridge High School Daily Echo collection.
Caitlin's favorite job is quality checking archival scans. She enjoys the routine and finds it interesting to look at all of the different pages. Caitlin is a key part of the CDS team and has good camaraderie with her co-workers.
"Caitlin is an invaluable employee with strong family support, a great work ethic, fabulous attendance and stellar job performance. I am so grateful the internship program was available and allowed us to bring her on board. She is one of my best employees. I wish I had 4 more just like her! Besides being a great employee, I love seeing how Caitlin has blossomed socially since she started working here. A naturally quiet person she readily engages in astute observations during group conversations in CDS that are valued by all."

– Crista McIntosh
Learn more about document services at Crossroads Industrial Services.