In 2014, 4-year-old Audrey was featured on the cover of the annual engagement report for Easterseals Crossroads. When Audrey's parents realized that she was not meeting certain age-related milestones, such as sitting up and crawling during her first year, they engaged early intervention services through First Steps and Easterseals Crossroads at 9 months. In 2014, Audrey used a communication board along with signs to express herself and was learning to eat with adapted utensils and dress herself. As a happy 4-year-old, she was always excited to visit Easterseals Crossroads, greet staff members and point out her favorite wall art.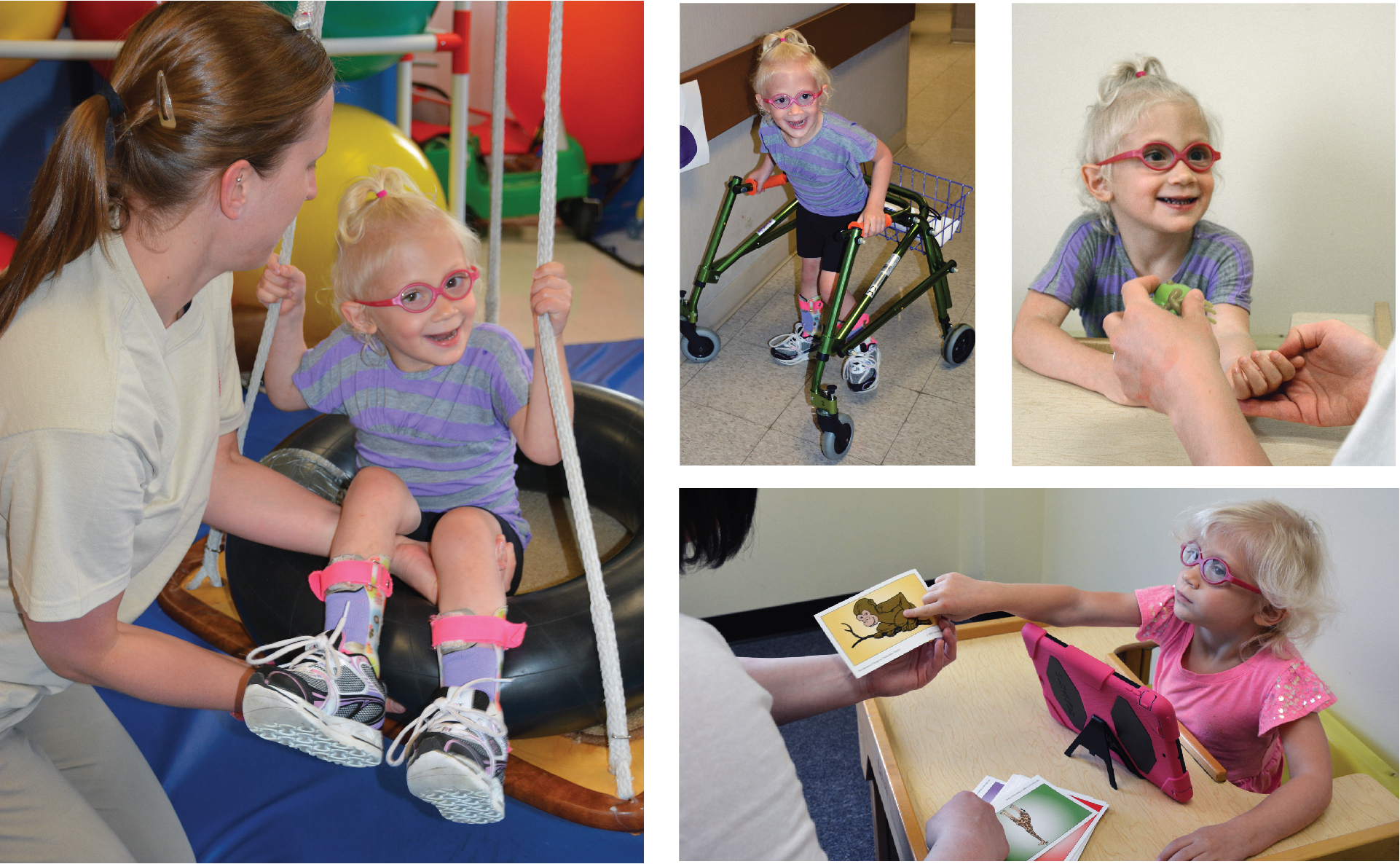 Speech-Language Goals
According to Audrey's mom Julie, Audrey's speech has changed tremendously since 2014. Audrey is now fully verbal with no need for sign language or a communication board. Julie notes that Audrey can still be somewhat hard to understand, but the family has found that people who know Audrey can understand her. Those who do not know her can understand the majority of what is said.
I can't imagine what life would be like if I couldn't have a conversation with my daughter; I'm so thankful that I can! It's not easy (for her or us) coming to multiple therapy sessions each week for virtually her entire life, but the payoff has already been huge, and I believe it will continue, said Julie.
Occupational Therapy Goals
During her time with occupational therapists, Audrey has worked to learn to eat independently with utensils, drink from an open cup, dress herself, type on her chrome book, turn faucets on/off, brush her teeth, buckle/unbuckle her own seat belt, open various packages on her own for meals and so many other fine motor skills. "All of these things make our lives as parents so much easier and are great for Audrey's feelings of independence," said Julie.
"I remember one night a few years ago, when I heard Audrey turn the bathroom faucet on and off. This was a huge moment for us – this seemingly simple moment that so many parents take for granted. For us, it was a moment of independence – Audrey no longer needed to ask for help getting a drink of water," said Julie.
Audrey is working very hard with handwriting. It appears as though handwriting may never be Audrey's best form of communication, but her family feels that being able to write her name is incredibly important. Audrey is progressing with this, yet it is still very difficult for her. Aside from writing her name, other current goals include expressing her emotions properly, alternating arm movement, building strength in her hands/arms, coloring, cutting and performing fine motor tasks such as stringing beads. Therapy is hard work and Audrey attends multiple appointments weekly. Her therapists plan activities that are engaging because the hard work can affect Audrey's focus on tasks.
Audrey Today
Audrey is now in 7th grade where she enjoys singing in the choir, music and dancing. She enjoys swimming lessons, watching shows, supporting the Indianapolis Indians team and especially mascot Rowdie. As a huge baseball fan, she has memorized how to sing the national anthem at baseball games; she loves joining in with Take me out to the Ballgame after the 7th inning stretch; and she knows the announcements at the end of the game.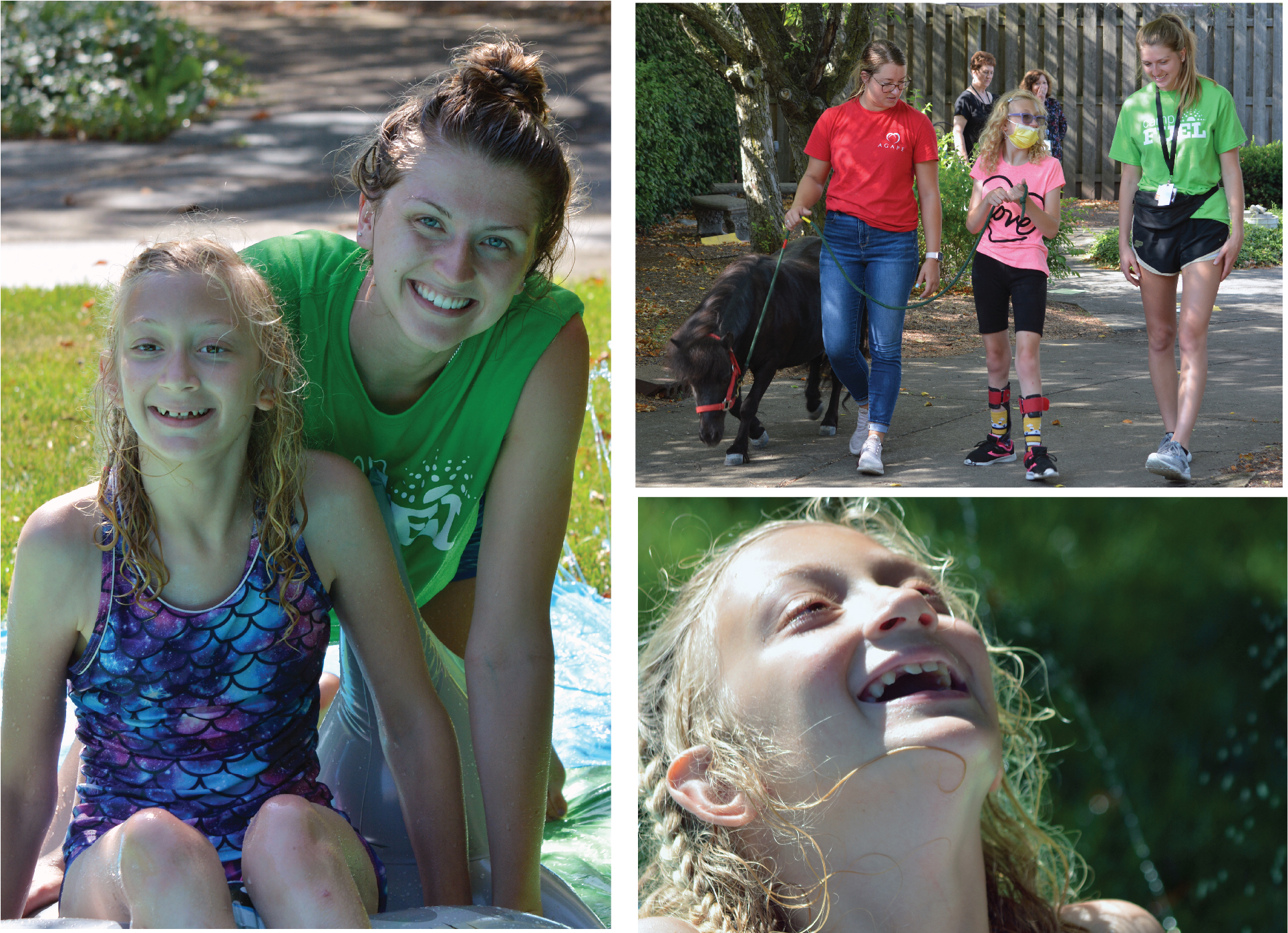 In addition to therapy appointments twice each week, Audrey has attended camps offered by Easterseals Crossroads. She began with CampAbility when she was 4 years old. According to her parents, Audrey would have not benefited from traditional day camp. "Audrey absolutely loves attending camps every summer and enjoys the photo book that the camp counselors have made for her after camp. This past year, Audrey attended Camp FUEL, which we called the big kids camp. We were worried that she would be among the youngest, but the counselors were great and Audrey loved it. It's wonderful to know that we can always count on Easterseals camps to provide a fun summer experience for her," said Julie.
"Easterseals has been a resource for Audrey and services have grown with her adjusting therapies to her specific needs and to our desires for her. The therapists care about what is important to our family, and these are the skills they will work on," said Julie.
"Easterseals has been a huge blessing in our lives. Her therapists over the years have done things to show their care for Audrey as a person, not just a client. Things like taking photos of their pets to show Audrey when she asked; showing her their pets via zoom when we did therapy virtually during Covid; gifting her a weighted stuffed animal because she liked one at therapy. We love how everyone here knows her and us. It isn't uncommon for the maintenance staff to greet us and comment on how far Audrey has progressed over the years," said Julie.
And you know – as a mom, I love seeing the different abilities of the staff at Easterseals Crossroads. Seeing adults at work who may have ability levels similar to Audrey gives me hope and confidence for her future as a working adult, said Julie.