Interns from the first Digital Literacy class completed training that was provided through the Comcast NBCUniversal Digital

Literacy and Employment Program. This program was designed for young adults with a diagnosed disability who are ages 18-24 and preparing to work in a competitive work environment. At a small ceremony the week of May 16, the program participants received certificates, program portfolios and a $500 stipend for completion of the program.
Melissa Hardesty is a team lead/employment consultant for this new program. She has been doing this work for almost 25 years and has focused on working with young adults transitioning out of high school and into the workforce for the last 15 years.
"For this new program, we identified candidates who have the desire to work, want to learn employment skills and have the ability to take directions and listen to feedback (even though feedback isn't  always easy). These traits were necessary qualifiers for the program and definitely will contribute to an intern's chances of obtaining a good job," said Melissa.
The Comcast NBCUniversal Digital Literacy and Employment Program is for any young adult ages 18-24 with a diagnosed disability who are preparing to work in a competitive work environment. The project focuses on delivering targeted digital literacy curriculum in the classroom combined with an internship that will allow each participant to demonstrate what they are learning in a real work setting.
Meet Interns Alayah and Julia
Alayah and Julia were perfect candidates for this initial program. "Alayah has that strong desire to learn and grow her job skills, and she was looking to discover what kind of work she wanted to do. Julia has such a genuine care for helping people and was interested in exploring what jobs she could do in a hospital," said Melissa.
Alayah and Julie were excited to learn about technology, money skills and gain experience with computer programs such as PowerPoint where they researched their dream vacation, put together a presentation and presented it to the class. Julia's dream vacation is going to Disney!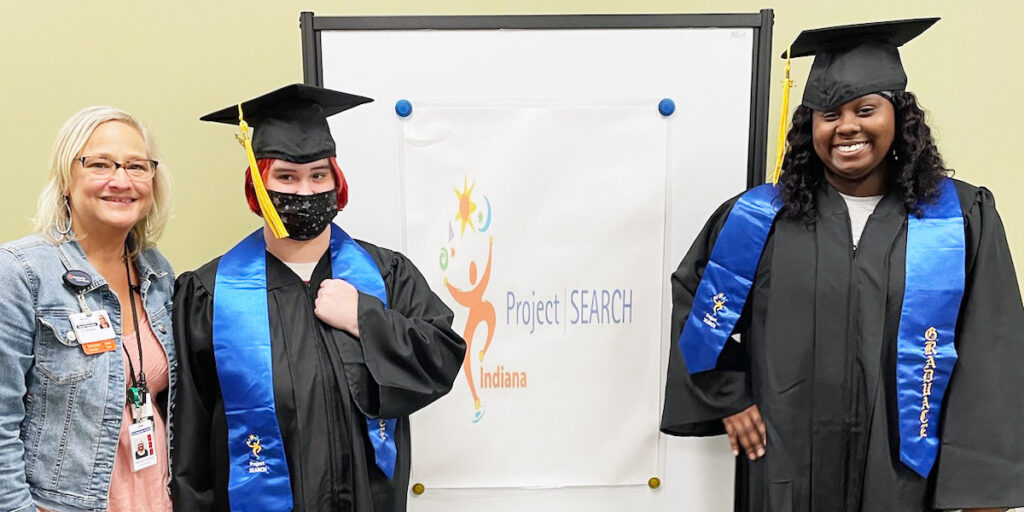 Julia and Alayah both have goals they are working towards for their future. "I'd like to find a job – maybe work at a hotel, hospital or maybe a restaurant. I'm going to save my money and put it in the bank. I'm going to save for buying my own house one day," Julia stated. "I will be going to IUPUI Site program after Project SEARCH. I'd like to get a job. My goal is to live on my own one day. I want to make my mom proud; I want to help her out. I'd like to treat her to dinner," Alayah said.
"Our interns have reached outside their comfort zone, learned to self-advocate for their needs and wants, and they have gained increased self-awareness, confidence and independence. More than anything, the increased confidence and independence are noticeable and significant since the beginning of this program," said Melissa.
Contact us to learn more about employment readiness and training options at Easterseals Crossroads.