Anthem Blue Cross and Blue Shield is a leading health company dedicated to improving lives and communities and making healthcare simpler. Delivering health beyond healthcare, Anthem is expanding from being a partner in health benefits to a lifetime, trusted health partner. As an industry leader, Anthem has invested the time and resources necessary to fully understand and meet the unique needs of members in Indiana's managed care programs. Serving Hoosier Healthwise, Healthy Indiana Plan (HIP) and Hoosier Care Connect members, Anthem Medicaid has been delivering quality care since 2007. Their priority is helping members get the right healthcare at the right time, in the right place.
Anthem works to address health equity by focusing on improving the health of the socially vulnerable through strategic partnerships and programs in our communities.

Anthem has committed resources and worked with key entities such as nonprofit organizations, universities, professional societies and government agencies to create initiatives that address public health concerns, close gaps, and improve people's everyday living conditions. Current initiatives include focus on behavioral and mental health, substance abuse, cancer care, vaccinations and multicultural health programs.  Anthem is dedicated to advancing health equity so that all people can receive individualized care that demonstrates cultural humility and improves their health and wellbeing.
Giving Back to our Communities through Partnership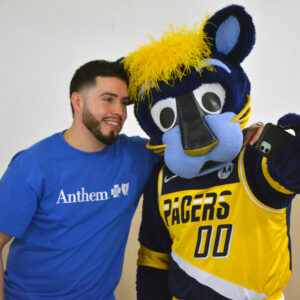 Anthem collaborates with local, state and national leaders to address factors driving racial and health inequities in the healthcare system and society. Anthem is committed to creating sustainable change in communities across the country. As a company with more than 90,000 associates, Anthem fosters an inclusive and equitable workforce and culture. They are dedicating funding to support community partners that will work to help revive and rebuild neighborhoods in Indianapolis and the communities served across the country, with a focus on improving health and reducing disparities, as well as economic development and job creation.  Their associates' diverse cultural insights, perspectives and experiences are integral in helping to address the needs of the whole person, which extend beyond physical and mental health to societal issues such as food, housing and transportation–while delivering cost savings and improved quality and healthcare outcomes.
Anthem has connected with Easterseals Crossroads since the early days of the telethon starting in 1996 where proceeds helped provide inclusive early education and essential therapy services for local kids and adults with disabilities. Since then, they have partnered through a variety of programs including autism family support, community days and workforce development opportunities. Anthem is proud to work with Easterseals Crossroads to provide the community with solutions to overcome barriers to accessing much needed healthcare support.
"Anthem has continued to invest in initiatives and programs that better serve our members and community partners through innovative solutions. We are grateful to work with Easterseals Crossroads to deliver on our mission of improving lives and communities and most importantly, providing life-changing therapy for some of our most vulnerable Hoosiers that may be struggling to make ends meet," said Ginny France, Community Outreach, Anthem Blue Cross and Blue Shield.
 The Future of Partnership
Anthem is very pleased to be working in collaboration with Easterseals Crossroads striving together to improve the health and wellbeing of our communities by addressing public health concerns, closing gaps in care and improving people's everyday living conditions.
Learn more about our next Community Day event presented by Anthem Blue Cross and Blue Shield.