Ronna Taylor-Dye has been connected to Easterseals Crossroads for 33 years. Her father, Ron Taylor, was hired as a professional driver in 1989 when the agency transported children to and from their classes and therapy services. Children as young as 12 months rode with Ron and he always referred to his little passengers as his kids. Ronna remembers her dad saying that some kids would cry on their first ride, but by the end of the first week, they cried to stay on the bus with Mr. Ron. The family of one child even gave Ron an ornament with the words "Can I ride with Mr. Ron?" engraved on it since those words were frequently heard in the family's home. Ron continued to wear many hats of duty at Easterseals Crossroads, which included transporting adults to and from service programs, collecting meals, opening/closing the building, working at respite nights, performing custodial duties and even playing Santa Claus for children's events.
Ron passed away in 2012, but his memory and legacy have lived on within the agency. He is always remembered as a caring, professional, dedicated, service-minded, fun-loving man. He loved interacting with others and he demonstrated his love of life with his daily actions. Quite simply, he made the agency a better place for everyone within his orbit.
Ronna remembers stories about some of the things that her dad would do at work to add some fun to his day. While transporting his young passengers, he would make up simple songs that they could sing together. When he cleaned therapy rooms at the close of the day, he would arrange stuffed animals and dolls in tea-party style around the table to make the waiting room more welcoming for its young audience the next day.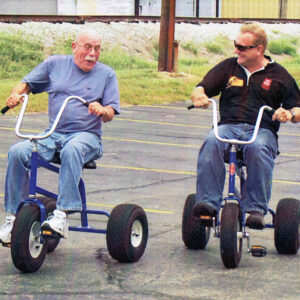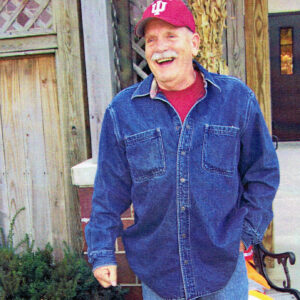 "Dad was a supporter of the fundraisers for Easterseals Crossroads because he had such a deep appreciation for the work that is done at the agency for the community. Since his passing, we have contributed to his memorial fund*, bought flowers (Sertoma Rose Sale to benefit Easterseals Crossroads), participated in the Bingo Bonanza events and bought raffle tickets for the Ten Grand in Your Hand events," said Ronna.
*The Ron Taylor Memorial Fund was established in 2012 to specifically assist adults and children with disabilities with unique financial needs that are not covered by any other source. Supported primarily by staff at Easterseals Crossroads and Ron's family, the fund has been in existence since 2012 and has helped individuals with specific needs since then.
"Dad found it important to have fun in life, to be with people and to give back. Bingo Bonanza became a way for my family and friends to come together in honor of him; I guess you could say we needed Bingo Bonanza. Dad passed on February 14, 2012, and I was looking for a way to make February a less heart-heavy time for my family. Bingo was perfect since it is typically in February and it gives us time together to memorialize my father. We are able to have fun, laugh and contribute to a cause that meant so much to him. I know he would approve," said Ronna.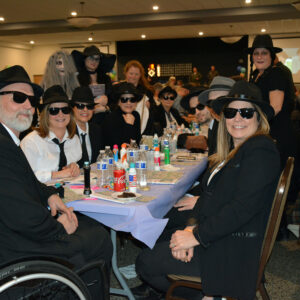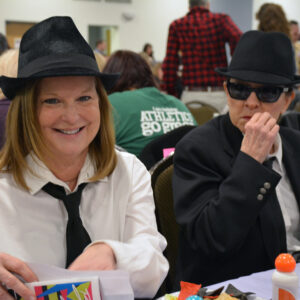 Easterseals Crossroads is an agency that Ronna and her family continue to find worthy to support. The programs and services provided by Easterseals Crossroads for individuals with disabilities  are vital. "The work that Crossroads does for children and adults with disabilities is crucial to the development, independence and dignity of these individuals and their families in our community. Services thrive with continued support from our community," said Ronna.
Ron will continue to be remembered at the agency; all agree that he would be so proud of his family for their continued support of an agency that he so deeply loved. This year, Ronna bought a large number of raffle tickets for the Ten Grand in Your Hand raffle held in March. She was so surprised to learn that she had won the raffle; she did not expect that at all. "I wasn't expecting a big win. I  just wanted to donate to the agency since Covid has prevented the Bingo Bonanza fundraising event from happening for the past two years. Truthfully I'm not sure what I'm going to do with the money, but I know I would like to contribute some of it for improvements in the agency garden. One of my favorite pictures of my dad is one taken in the garden," said Ronna.
Support that spans the generations is support that helps Easterseals Crossroads continue to meet the needs of  those with disabilities in our community. Contact us to learn about ways to support Easterseals Crossroads.