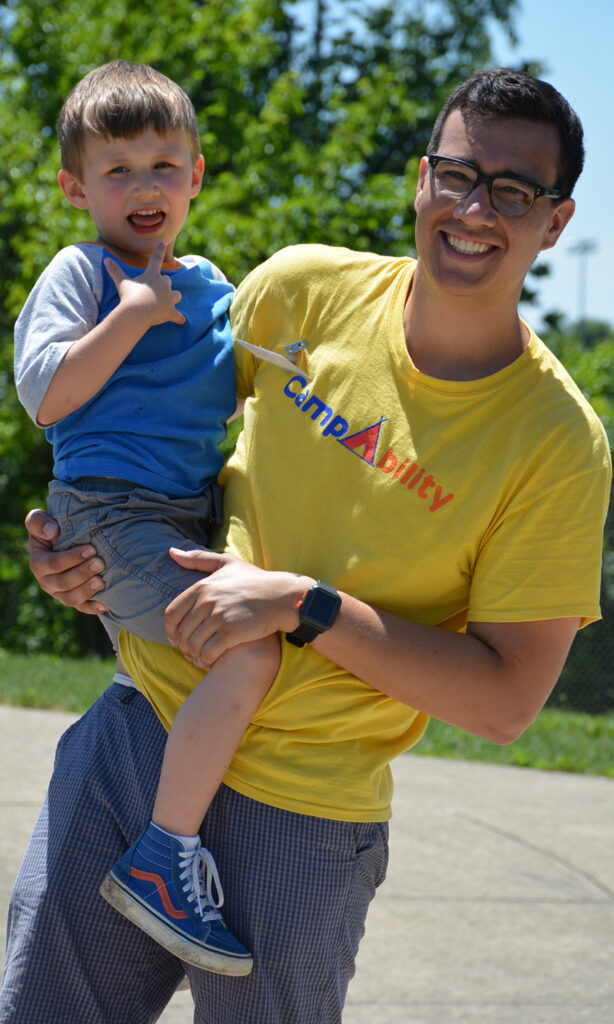 Tim Blanusa has been an employee at Easterseals Crossroads in its camp and respite programs for over eight years. As a third and fourth grade special education teacher, Tim has years of experience and knowledge working with children; we are so fortunate for all of the creativity and dedication that he brings to our programs!
"Being able to provide camp and respite experiences for this age group is a lot of fun. Some of the kids with whom we work may not necessarily be able to have these types of activities if it wasn't for Easterseals Crossroads. The camp programs help me recharge after a school year and see kids in a completely different setting," said Tim.
Camp counselors for CampAbility often return year after year. Many of the staff are educators in our community and they bring a wealth of diversity and knowledge to the program. Our camp families appreciate the team approach in providing a safe, fun, inclusive experience year after year for campers. Our camp staff connect with our families and truly become a huge part of their lives; our staff foster these relationships and connections as a vital part of the camp experience.
"Our goal with our camps is to provide a traditional camp experience for kids who may not be able to get that anywhere else. I love the excitement I see when the kids get to try new things. CampAbility is for children ages 4 – 11; sometimes this camp is the first time a child is away from his/her primary care provider. As staff, we understand that and we work very hard on building trust and developing comfort levels with our families," said Tim.
CampAbility and Camp FUEL respond to needs in our community right along with our respite programs for children, teens and adults. Each of these programs offer recreational opportunities for children and respite for families. Many of our staff members who support the programs work in one or more of the options, thus creating an opportunity to interact with the same families. Participants can grow from one program to the next in some cases; for instance, when a child ages out of CampAbility, this child might be a good match for Camp FUEL during his/her teen years.
"For a first time camper – say a child who is four and attending CampAbility for the first time – there might be a bit of separation anxiety. Once the child becomes involved with the activities, the mindset changes and the fun kicks in. At the end of a camp day, the child doesn't want to go home because of all the experiences. I think that our camps set a foundation for the ability to break barriers and stigmas. Each time a camper can do something and then something else and then something else helps break those barriers often associated with a disability. Being a part of a team that provides experiences like this brings so much joy and excitement to our families. There are not many places where this kind of thing happens and it is definitely something I will always take with me and remember," said Tim.
Learn more about camps and respite programs available through Easterseals Crossroads.