What is Chair One Fitness
Chair One Fitness is a seated, interactive, total body workout. The mission of Chair One Fitness is to go beyond boundaries created by perceived limitations enabling everyone to stay active mentally and physically no matter age and ability.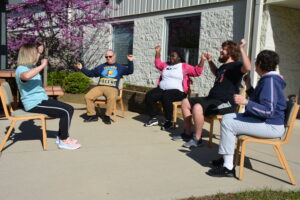 Who Can Benefit from the Program
Anyone can benefit from Chair One Fitness, but it is specially designed for individuals who have complications with standing during a fitness regimen. On average, a person can burn 225-255 calories during a 45-minute class (with target heart zones at fat burn and cardio levels).
What are the Goals of the Program
The program is designed to keep individuals active to ensure that they remain progressive in daily function and/or recovery. Participants benefit physically, mentally and socially.
What is a Typical Class Like
Class can be low intensity or high intensity and last anywhere from 30 – 60 minutes. This includes a warm-up, workout and cool down while enjoying a fun, energetic playlist. The entire workout is completed from a seated position. Each song on the playlist offers a unique routine that benefits the entire body. We can customize the playlist to fit your group making the workout personalized and meaningful.
"Gina is fantastic! She brings out the best in everyone; we get a great workout while having fun!" – Herschel, Chair One Fitness participant
How Does Chair One Fitness Differ from Other Programs
Chair One Fitness is different because it eliminates the barrier of standing during exercise. It offers a full body workout from a seated position and each person can participate at their own ability level.
How Do We Get Started
Easterseals Crossroads can bring Chair One Fitness to your group or organization. We can customize your class for your group.
Contact Gina Schulz at 317.466.1000 x3083 or email her at gschulz@eastersealscrossroads.org
Watch a clip from one of Gina's most recent sessions here https://youtu.be/s0RYkn3zzZc