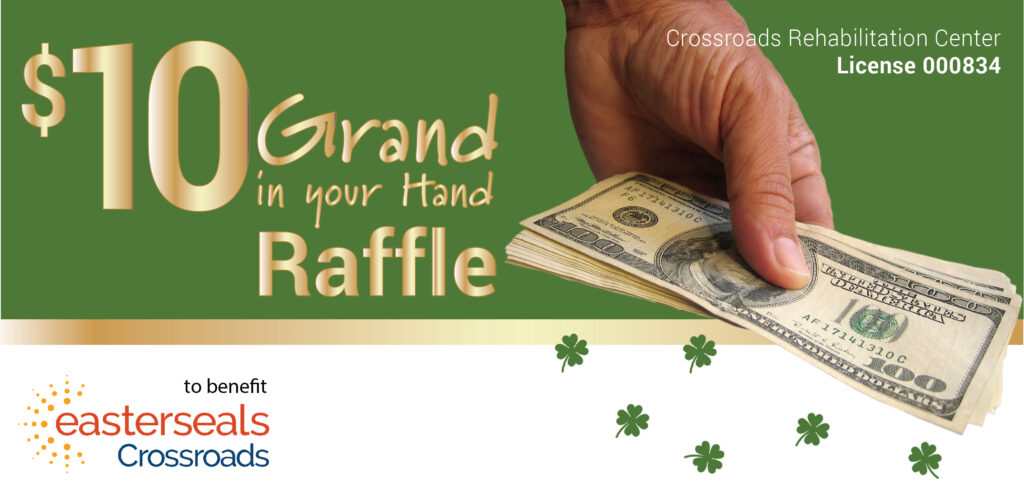 Presented by Century 21 Scheetz and HSA Home Warranty
The Raffle
(Crossroads Rehabilitation Center – License #000834)
One $10,000 prize winner will be drawn via Easterseals Crossroads Facebook Live on March 17, 2022, at 12 p.m. EST.
Where to Buy Raffle Tickets
Tickets are $50 each and available now. According to charity gaming laws, tickets can only be purchased via cash or check. Only 600 tickets will be sold; purchase early.
Purchase by Mail (Checks Only)
Easterseals Crossroads, Raffle
4740 Kingsway Drive, Indianapolis, IN 46205
After payment is received, we will enter your name in our raffle and mail you the ticket stub.
Purchase in Person
Purchase tickets via cash or check (payable to Easterseals Crossroads) at the following locations. Please call the location to confirm ticket availability.
Easterseals Crossroads (Mondays – Fridays, 10 a.m. – 2 p.m.)
• 4740 Kingsway Drive, Indianapolis, IN 46205 (317.479.3249)
Century 21 Scheetz Locations
• 4929 East 96th Street, Indianapolis, IN 46240 (317.705.2500)
• 270 East Carmel Drive, Carmel, IN 46032 (317.844.5111)
• 135 East Sycamore Street, Zionsville, IN 46077 (317.873.1700)
• 11504 Lakeridge Drive, Fishers, IN 46037 (317.595.0021)
• 1533 Olive Branch Parke Lane, Suite A, Greenwood, IN 46143 (317.881.2100)
• 643 Massachusetts Avenue, Indianapolis, IN 46204 (317.814.5500)
• 1155 South College Mall Road, Suite C, Bloomington, IN 47401 (812.336.2100)
About Easterseals Crossroads
Easterseals Crossroads is leading the way to 100% equity, inclusion and access for people with disabilities, families and communities. For young families, we provide early intervention therapy for babies/toddlers and therapy services for children. As families age, we assist with transition services, employment assistance, veteran programs and community day supports. And when a family changes, we provide autism services, assistive technology, deaf services and home modification services. Donations help Easterseals Crossroads remain the resource that anyone of us could need at any point in our lives.
About Century 21 Scheetz
Century 21 Scheetz is a valuable partner dedicated to making our community a better place to live, learn, work and play. For over 20 years, Century 21 Scheetz has supported Easterseals Crossroads as a vital resource for individuals and families in central Indiana.
The Fine Print
Raffle participants must be 18 years of age or older at the time of purchase. Confirmation of your ticket number(s) will be sent to you upon receipt of your order form and payment. If sold out, your order form and payment will be returned to you. The drawing will take place on March 17, 2022, at 12 p.m. EST via Easterseals Crossroads Facebook Live. Payment of all applicable federal, state and local taxes are the responsibility of the winner. Winner must complete a W-9 form and will receive an IRS tax form W-2G stating the prize value. Winner must take possession of the prize within (60) sixty days of the drawing and must present a photo ID and completed W-9 form to claim prize. For federal income tax purposes, 24% of the $10,000 prize will be withheld as required by the IRS. Prizes are not transferable.