Easterseals Crossroads is once again participating in Walking for Dreams Family and Pet Walk — a fundraiser to support nonprofits in our community.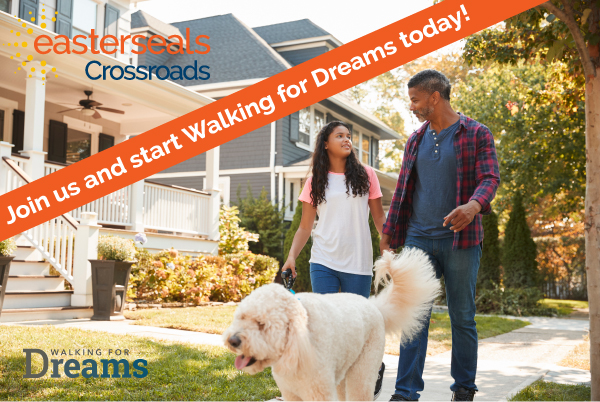 Since being outside is one of the things we can do while safely social distancing, we challenge you to join us in Walking for Dreams — one day at a time — in support of individuals and families living with disabilities in central Indiana. Please join us in our $10 virtual walk challenge by raising $10 for each walk you take between now and August 16 and donating to Easterseals Crossroads.
Start by creating a fundraising page where you will find templates all ready to go. Click Start Fundraising to get started and and share with your friends and family for support.
Here are a couple of links to help you get started:
On August 16, join us for a virtual thank you for all Walking for Dreams participants throughout the city and celebrate virtually together.
If you want to help but prefer not to fundraise, please consider a donation in support of our mission. And don't forget to follow us at #WalkForESC to share your journey!