iCan Bike – a program of iCan Shine – is a camp for individuals with special needs who want to learn to ride a two-wheeled bicycle. Easterseals Crossroads brings this program to Indianapolis each year for the benefit of 40 potential riders.
Josie Bucker is a veteran iCan Bike spotter and volunteer; as a young girl, she first tagged along with her mom in 2009. Josie's mom helped with the camp when it first started here as Lose the Training Wheels, and each year she found more ways to get Josie involved. Josie grew from initially "hanging out in the Perry Park Ice Skating Rink lobby while her mom worked" to doing much-needed jobs here and there. Once she became old enough to be a spotter, she jumped at the chance and has been spotting (running alongside) participants each summer since.
Josie is now a sophomore in the Honors College Barrett at Arizona State University where she is the leader of the Disabilities and Empowerment Mission Team. In this role, she collaborates with peers who have similar passion for working with individuals with special needs. Easterseals Crossroads is excited that Josie has once again returned to iCan Bike. This year, she is our intern and she has been instrumental in much of the behind- the-scenes work that it takes every year to bring the camp to Indianapolis.
The success of iCan Bike relies heavily on volunteers; each of the 40 participants need a team of spotters to run alongside them while they learn. We have been fortunate to enlist the help from high school coaches on the south side to recruit our volunteers, an astounding group of 80 athletes who want to run for a good cause! Athletes and coaches at Perry Meridian High School and Roncalli High School join us each year in our mission of making profound, positive differences in people's lives every day.
iCan Bike has a resounding rate of success; approximately 80 percent of the camp participants are able to independently ride a two-wheeled bicycle by the end of the program week. With her many years of spotting behind her, Josie has found that success is really subjective. "Even if a participant isn't able to make it to two wheels by the end of camp, the rider has gained confidence and other skills that are transferable. We have had some kids who were scared to even sit on a bike, but by the end of camp they gained the confidence to start pedaling," said Josie.
"I look forward to iCan bike every year. I love the smiles on the kid's faces the best. This camp allows people to reach milestones that many of them never dreamed possible. It is an amazing feeling to be part of something like this." said Josie.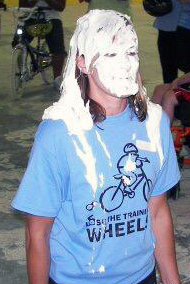 Motivation is sometimes a factor in learning to ride. Josie remembers one year where a boy refused to ride. Volunteers tried to motivate him, but nothing seemed to work. Josie's mom, Becky Brehob, was this boy's spotter that year and stepped in to help.
The boy said that he wanted to throw a pie in her face, and Becky turned that statement into motivation by promising him that if he got up on two wheels by the last day of the five-day camp, he could throw a pie in her face. She came prepared with a whipped cream pie on that Friday, the rider made it to two-wheels and the pie was thrown.
Through the years, Josie has seen lots of happy kids and lots of happy parents. "Most of the kids are really excited to do something that many of their friends can do. I hear a lot of appreciation from parents who say that they have tried for years to get their child to ride a bike but have never been successful," said Josie.
Volunteer spotters really get as much out of the camp as do the participants and families. Each participant is paired with the same small group of spotters for each session throughout the five days of camp. This pairing allows for bonding and trust tends to follow. "At the end of camp, volunteers are sad to leave their riders. I frequently hear volunteers say how proud they are of their riders," said Josie.
iCan Bike helps a participant reach a significant milestone of independence, and we at Easterseals Crossroads are committed to helping individuals with disabilities in our community reach their maximum level of independence. Volunteers like Josie help us make that happen! If you have any time this summer, contact us to see how you can help us make a difference in our community.