Easterseals Crossroads offer a wide variety of services and programs to individuals who have disabilities in the greater Indianapolis area. Our employment service program helps adults with disabilities who are seeking meaningful employment. Our consultants act as the bridge between career-seeking individuals with a disability and employers. Not only do our consultants help with interviewing skills, they also assist with after-placement job coaching if needed. This holistic approach provides the best opportunity for success.
We couldn't achieve this degree of success without the great talent within our employment division; get to know just two of our employment consultants: Jean Ann Rippe and Alex Buchman.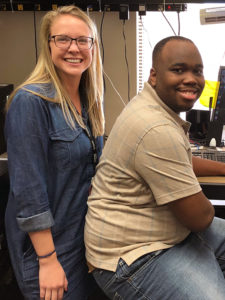 Meet Jean Ann Rippe
Jean Ann Rippe has been an employment consultant for almost two years. She works with  businesses in the community to help place individuals in meaningful and gainful employment.  "I have helped my consumers gain employment in positions all across the board. From kitchen staffing to IT service technical assistance. Ultimately, I am looking for jobs that best fit my consumer's life based on his/her unique schedule, availability, accessibility and strengths," said Jean Ann.
Meet Alex Buchman
Alex has been working with Easterseals since graduating Butler University in 2014. Initially, he did not have much experience working with individuals with disabilities; however, he quickly gained skills
to advocate and assist the many individuals who truly want to work. "I primarily focus on working with individuals with traumatic brain injuries; I work with both younger and older consumers who have a wide array of strengths and weaknesses," said Alex.
Often times, our employment consultants are challenged by circumstances that arise throughout the job-search process. It is mutually agreed, though, that the end result of  job placement is paramount to any challenge.
"I get so much satisfaction when a consumer obtains a position that he/she wanted. It's a feeling I've never felt before in my life. I genuinely can feel my consumer's happiness and the family is always so appreciative. Seeing someone gain further independence is something really special. Knowing I am actively changing someone's life is what drives me to work so hard every day," said Jean Ann.
"I love seeing the joy on an individual's face when he/she works so very hard and is offered a position. The sense of pride skyrockets when an individual shows a co-worker or  manager that he/she can perform the same tasks and job duties as everyone else," said Alex.
Alex's Best Day Ever at Easterseals Crossroads
"Right after I started, I worked with an individual who was blind and worked in the kitchen of a hotel as a dishwasher. I was amazed that he could remember everyone's voice, as well as how many steps he had to take to navigate around the kitchen. His supervisor was concerned that he wasn't going to be able to continue because of the need to carry some large crates that all dishwashers must carry. I worked with his manager and HR director and set up a week crash course for him to demonstrate his capabilities. After returning a week later, I was informed he was one of the quickest learners and possessed a great work ethic. He passed the test and has currently been working there for over three years with full time benefits."
Jean Ann's Best Day Ever at Easterseals Crossroads
"The best day I've ever had at Crossroads is the day I placed three of my consumers in positions that they all wanted. All three consumers were deaf; their job preferences and strengths were all in different industries. This was a rare occurrence because many times the job search process is long and drawn out; it was an amazing feeling knowing that I had changed three lives for the better all in one day – I want many more days like that in the future!"
How we help Businesses in our Community
Employers will benefit from hiring our consumers because they are gaining an individual who genuinely wants to work. Also in choosing Crossroads for employment services, employers are gaining an on- site job coach to assist with new-hire transitions.
"My consumers want to work; they want to gain further independence in their lives; they want to be accountable. This is a major driving force in their workplace habits. Some of the hardest, most dedicated people I know are the consumers whom I assist," said Jean Ann.
Contact us if you are seeking qualified job candidates for your organization or get connected if you want to know more about employment services at Easterseals Crossroads.