Pressure Switch Product Line
Easterseals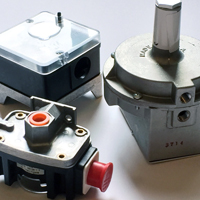 Crossroads has acquired A.J. Antunes & Co.'s Pressure Switch product line, bringing about a dozen jobs to the area and growing our Crossroads Industrial Services (CIS) arm in Indianapolis to have a more international impact.
The Antunes Control product line we are acquiring is used in commercial boilers and HVAC applications and was previously based in Carol Stream, Illinois, with operations in Suzhou, China. The acquisition was finalized on May 15, and Easterseals Crossroads is currently in the process of moving the operation to our eastside Indianapolis plant with the start date goal for production lines as early as August 1, 2017.
"The exciting difference about this acquisition from past business is we are no longer solely relying on other companies to provide work for our plant," said Greg Roberts, General Manager of Operations, at Easterseals Crossroads Industrial Services. "By owning this line of switches, we can now create a better future for our employees with a product of our own that provides repeatable and steady employment."
Easterseals Crossroads is confident that this business move will help continue our mission of taking on disability together by creating more employment opportunities at Easterseals Crossroads Industrial Services where 80 percent of the workers are individuals with disabilities.
"This acquisition builds on the rich history at CIS," said J. Patrick Sandy, president and CEO of Easterseals Crossroads. "These efforts fit well with our strategic plan to grow employment, leverage our proven capabilities and bring more independence to our CIS operations all while positively impacting the economy and community of Central Indiana."