June 15 – June 22  . . .
National Certified Nursing Assistant Week
This week in June is dedicated to Certified Nursing Assistants (CNA) in celebration of the many contributions made by CNAs. A CNA typically helps patients, clients or consumers with healthcare needs under the supervision of a Registered Nurse (RN) or a Licensed Practical Nurse (LPN).
CNAs are typically employed in hospitals, long-term care facilities, nursing homes or rehabilitation centers. CNAs deliver immediate, hands-on care to individuals and in addition to medical knowledge and certification, they possess
Strong decision-making skills
Respect for the individuals whom they serve
Attention to detail
Great communication skills
Problem solving skills
Creativity
High ethical standards and integrity
Ability to develop and maintain interpersonal relationships
Easterseals Crossroads employees CNAs to work in our Adult Day Services programs at our South and Main locations. Our CNAs assist with daily programming in our blended social and medical models of day services for adults 18+ years of age with developmental or acquired disabilities. We meet the needs of all consumers in a safe, supportive environment.
O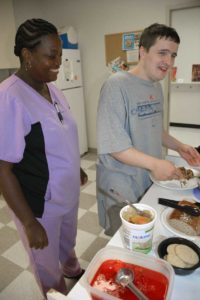 ur CNAs provide supervision and assistance with activities of daily living and include social and skill building activities such as group exercise, memory strengthening activities, current event lectures/discussions, games, creative expression, pet therapy, computer literacy, skills training/education and scheduled outings.
Thank you to our CNAs!
 Willowbrook                            Thompson Road
Rochelle Brown                         DaShawn Meadows
Robin Johnson                          Brittni Viles
Michelle Mickles
Scott Wilcher
Learn more about Adult Day Services at Easterseals Crossroads.