Celebrating 100 Years of OT
| Not only are occupational therapists  celebrating Occupational Therapist Month during April, they are also celebrating the 100th anniversary of the profession this year!
Occupational therapy gained its roots after soldiers returned from WWI needing therapy. The National Society for the Promotion of Occupational Therapy started in 1917 in Clifton Springs, NY.
Occupational therapy was first defined as an activity, mental or physical, definitely prescribed for the distinct purpose of contributing to and hastening recovery from disease or injury. (Dr. H. A. Patterson)
Occupational therapists at Easterseals Crossroads have between one and 29 years of experience.
Our OTs specialize in all aspects of pediatric therapy including sensory processing, school-based therapy, early intervention and clinical therapy. We also have two OTs who specialize in driver evaluation and training. They work with adolescents and adults who are learning to drive and/or need modifications for driving. Both of these individuals are Certified Driver Rehabilitation Specialists (CDRS).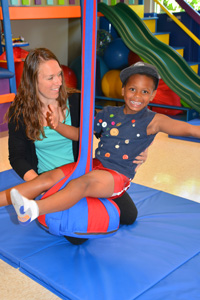 People are often confused by the profession's name of occupational therapy and think that OTs focus on helping people get jobs. Occupational therapists are interested in all the aspects of a person's life such as caregiver, hobbyist, partner, student and worker. Occupation is anything that a person does that has meaning to them; for example, a child's primary occupation might be considered play.
Occupational therapists want people to be able to fully participate in all aspects of life.
At Easterseals Crossroads, we value the contributions of our occupational therapists each and every day! Thank you to our amazing OTs:
Katy Everhart
Mary Follman
Carlee Green
Alison Kistner
Teri Maloney
Suzanne Pritchard
Emily Staab
Kellie Tekulve