Register Today

Registration is now open for iCan Bike  – a bicycle camp for children and adults (ages 8 and up) with disabilities that provides the opportunity to learn how to ride and transition to a conventional bike within a 5-day period. The program utilizes adapted bikes and techniques developed by Dr. Richard Klein, a retired professor of mechanical engineering from the University of Illinois. The program is a very popular one offered in partnership with iCan Shine.
Program Success Rate
Individuals who have benefited most from the program are those who have use of all limbs, adequate vision to see and avoid obstacles and, above all…the desire to ride a bicycle. Most people enrolling are those capable of riding a bicycle with training wheels; however, it may be with some difficulty or hesitation.
Approximately 80 percent of the camp participants are able to independently ride a two-wheeled bicycle by the end of the week.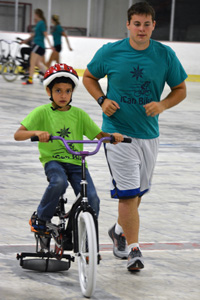 Volunteer Needs
The camp is directed by professionals from iCan Bike, but volunteers provide the leg work. Spotters are volunteers who walk/run beside the bikers to provide physical support and encouragement. We need two volunteers per participant, which translates to a tremendous need for 80 volunteers.
If you know of any potential volunteers for iCan Bike, please direct them to this link to fill out a volunteer application form for iCan Bike. 
Sessions
Each participant is enrolled in the same 75-minute session per day for 5 consecutive days during the week of June 19 through June 23, 2017. A session costs $130 per person.
I Can Bike is offered at Perry Park Ice Skating Rink  (located at 451 E. Stop 11 Road, near Meridian Street intersection)
If you know of families who may be interested in iCan Bike, direct them to our website for information and a registration form.