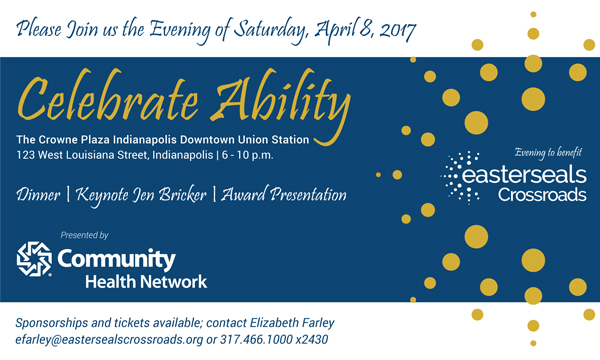 ---

The Crowne Plaza Indianapolis Downtown Union Station
123 West Louisiana Street, Indianapolis  |  6 – 10 p.m.
Easterseals Crossroads is celebrating ability in an exciting way — please join us! Our evening of ability will feature Jen Bricker, who is a renowned aerialist, author and motivational speaker.
Jen shares her compelling story on her website:
Jen Bricker was born without legs and with her heart on the opposite side of her chest. Shocked and uncertain they could care for a child with two birth defects, her biological parents gave her up for adoption. In her loving adoptive home, there was just one simple rule: "Never say 'can't." And pretty soon, there was nothing that this small but mighty powerhouse set her sights on that she couldn't conquer: rollerskating, volleyball, power tumbling, spinning from silk ribbons 30 feet in the air. 
And then . . .  from the strange magnetic pull she felt when watching Olympic gymnast Dominique Moceanu to her discovery that they are biological sisters and their emotional reunion.
Hear Jen's story when you join us for an evening to Celebrate Ability including a reception, dinner, dessert, award presentation and fun! 
---
Sponsorships and tickets are available; contact Elizabeth Farley at efarley@eastersealscrossroads.org or 317.466.1000 x2430.